Queens Jazz Trail Map
While New Orleans may boast that it is the "birthplace of jazz," New York City's borough of Queens has its own proud claim: it has been the "home of jazz," the residence of choice for hundreds of the music's leading players. The award-winning Queens Jazz Trail map (originally commissioned by Flushing Town Hall) shows the different neighborhoods and sites that are part of this hidden jazz history. Featuring portraits of jazz greats and drawings of their houses, this pictorial map makes a beautiful poster. The back of the map contains a short history of jazz in Queens; the addresses of homes once occupied by jazz musicians; and sites of current interest to jazz fans.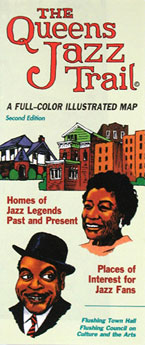 Map cover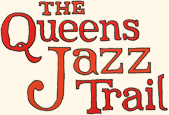 Folded maps packaged in shrink-wrap
(unfolds to 17" x 21")
Currently out of print
Unfolded maps sold as posters printed on 65-lb cover stock (17" x 21")
Currently out of print
Map Includes: Cannonball Adderly • Louis Armstrong • Louis Armstrong Archives • Addisleigh Park • Mildred Bailey • Count Basie • Tony Bennett • Bix Beiderbecke • James Brown • John Coltrane • Corona • Roy Eldridge • Ella Fitzgerald • Flushing Cemetery • Dizzy Gillespie • Benny Goodman • Jimmy Heath • Woody Herman • Milt Hinton • Billie Holiday • Lena Horne • Milt Jackson • Illinois Jacquet • Scott Joplin • Glenn Miller • Charlie Mingus • Clark Terry • Fats Waller • Ben Webster • Lester Young
Queens Jazz Trail Directory
The Queens Jazz Trail Map is much more than an attractive wall poster. It also contains a short history of jazz in the borough of Queens and an address directory that locates the homes of famous jazz musicians and other sites of interest to jazz fans. The address directory is printed on the back of folded Queens Jazz Trail maps. Unfolded posters and framed maps come with a separate four-page booklet containing the directory information.
Queens Links