East Village Map
For over a half-century, the East Village has been the locus of bohemian and avant-garde culture in New York City. This illustrated map spotlights the writers, artists, musicians, actors, entrepreneurs and political leaders who have helped define new directions in American fine arts and popular culture. Featuring caricature portraits and accurate renderings of buildings and streets, this pictorial map makes for an entertaining and educational poster. The back of the map provides addresses and an easy-to-use walking tour of the neighborhood.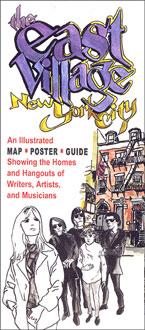 Map cover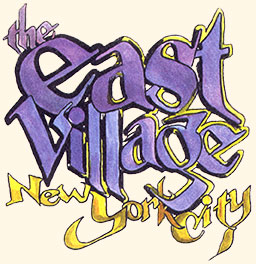 Folded maps packaged in shrink-wrap
(unfolds to 18" x 24")
Retail price: $9.95
Unfolded maps sold as posters printed on special paper stock (18" x 24")
Retail price: $24.95
Unfolded maps printed on special paper stock (18" x 24"). SIGNED BY THE ARTISTS
Retail price: $120
Postcards (4.75" x 6.5")
Retail price: $2.00 each
Map Includes: Diane Arbus • Jean Michel Basquiat • Lenny Bruce • William Burroughs • CBGBs • Club 57 • Dorothy Day • Willem de Kooning • Five Spot • Fillmore East • The Fugs • Allen Ginsberg • Philip Glass • Emma Goldman • Graffiti Murals • Keith Haring • Jimi Hendrix • Abbie Hoffman • Jack Kerouac • Lee Krasner • Jasper Johns • LeRoi Jones (Amiri Baraka) • Leadbelly • Madonna • Norman Mailer • Robert Mapplethorpe • Jonas Mekas • Joseph Papp • Charlie Parker • Jackson Pollack • Ramones • Larry Rivers • Patti Smith • Sun Ra • Talking Heads • Velvet Underground • Andy Warhol
East Village Walking Tour
The East Village Map is much more than an attractive wall poster. It also contains a well-researched walking-tour guide to the neighborhood's historic sites. The itinerary includes sixty-eight of the East Village's most interesting spots; each briefly described, and clearly located on a secondary map specifically designed for those visiting the area. The walking-tour guide is printed on the back of folded East Village maps. Unfolded posters and framed maps come with a separate four-page booklet containing the walking-tour information.
East Village Postcards - $2.00 each
Art by James Romberger & Marguerite Van Cook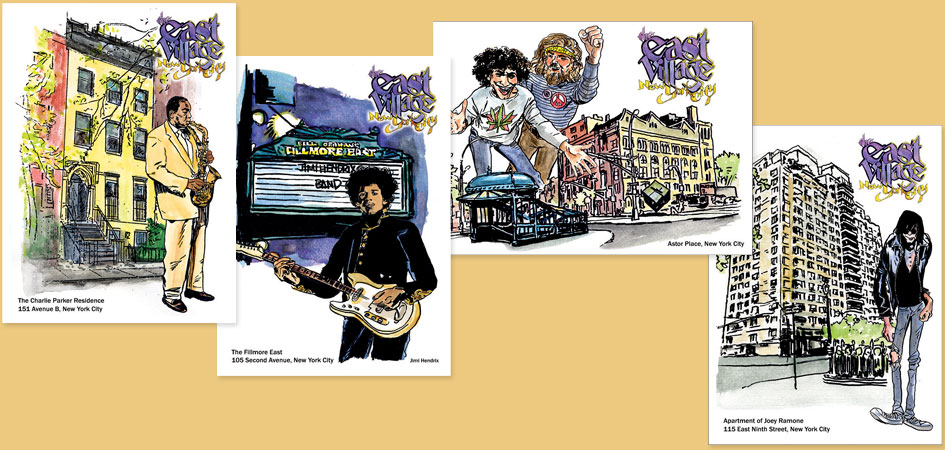 Left to right:
Charlie Parker
Jimi Hendrix
Abbie Hoffman & Jerry Rubin
Joey Ramone
East Village Links