Lower Manhattan: A History Map
Lower Manhattan: A History Map tells the story of New York City's oldest neighborhood, from the arrival of Giovanni da Verrazano in New York Harbor in 1524 through the destruction of the World Trade Center on September 11, 2001. With illustrations of landmark buildings, historic figures and major events by artist Tony Millionaire, the full-color map makes a beautiful poster worthy of framing. The back of the map contains the itinerary for a complete walking tour of the historic sites of Lower Manhattan. Designed for scholars, tourists, students, and city buffs, the map provides a perfect introduction to New York City and its history.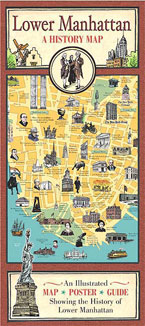 Map cover
Folded maps packaged in shrink-wrap
(unfolds to 18" x 24")
Retail price: $9.95
Unfolded maps sold as posters printed on 65-lb cover stock (24" x 32")
Retail price: $14.95
Framed maps

Map Includes: • African Burial Ground • DeWitt Clinton • David Dinkins • Dutch West India Company • Federalist Papers • Five Points • Benjamin Franklin • Fraunces Tavern • Cass Gilbert • Rudolph Giuliani • Great Fire of 1835 • Horace Greeley • Alexander Hamilton • Henry Hudson • John Jay • Mychal Judge • Fiorello LaGuardia • Emma Lazarus • Jenny Lind • Peter Minuit • J. P. Morgan • Thomas Nast • John D. Rockefeller • John Roebling • Theodore Roosevelt • Saint Elizabeth Bayley Seton • Alfred E. Smith • South Street Seaport • Peter Stuyvesant • Titanic Memorial Lighthouse • Boss Tweed • George Washington • Frank W. Woolworth • World Trade Center • Minoru Yamasaki
Lower Manhattan: A History Map Walking Tour
Lower Manhattan: A History Map is much more than an attractive wall poster. It also contains a well-researched walking-tour guide to the neighborhood's historic sites. The itinerary includes 50 important spots; each is briefly described, and clearly located on a secondary map specifically designed for those visiting the area. The walking-tour guide is printed on the back of folded Lower Manhattan maps. Unfolded posters and framed maps come with a separate four-page booklet containing the walking-tour information.
Lower Manhattan Links